Are you looking for a great Bible app in Filipino?
Tagalog Bible app brings the Holy Bible to your phone or tablet for free!
Read, study and share the Word of God easily from your phone! You can also use the app offline, no internet connection required.
Enjoy this Bible app, 100% free, specially made for Filipino speakers! An easy-to-use app with a very nice design that allows you to search books and verses very fast and easily.
In addition, it is an Audio Bible. Hear the Holy word in Tagalog!
Download the best Bible app that can strengthen your walk with God. We offer an amazing tool for study the Holy Bible in your own language, very clear font and a beautiful design.
This intuitive app allows you to bookmark and save verses, create a list of favorites, add notes and share them on Facebook or Twitter. Besides, you are able to reduce or enlarge the size font of the text or activate the night mode to change the luminosity when you read at night.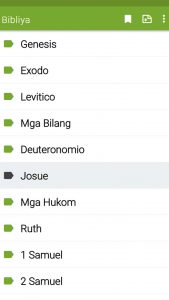 Download it now, so that you would enjoy the Bible on your phone!
Tagalog Bible is much more than an app. It is the precious holy Word of God. It is applicable today as much as it was yesterday and will be tomorrow.
Get your own Bible for free and learn the holy message of God in this excellent translation in Tagalog!
The Bible is not just a book, is a library of sixty-six books with an incredible unity. The word Bible comes from a Greek word, which means "little books".
The Bible is written in two parts, the Old Testament (39 books) and the New Testament (27 books):
Old Testament:
– Books of the Law (or Pentateuch): Genesis, Exodus, Leviticus, Numbers, Deuteronomy.
– Historical Books: Joshua, Judges, Ruth, First Samuel, Second Samuel, First Kings, Second Kings, First Chronicles, Second Chronicles, Ezra, Nehemiah, Esther.
– Poetry books (or The Writings): Job, Psalms, Proverbs, Ecclesiastes, Song of Solomon.
– Books of the Prophets:
Major Prophets: Isaiah, Jeremiah, Lamentations, Ezekiel, Daniel
Minor Prophets: Hosea, Joel, Amos, Obadiah, Jonah, Micah, Nahum, Habakkuk, Zephaniah, Haggai, Zechariah, Malachi.
New Testament:
– The Gospels: Matthew, Mark, Luke, John.
– Act of the Apostles
– The Epistles:
-Paul's Epistles: Romans, 1 Corinthians, 2 Corinthians, Galatians, Ephesians, Philippians, Colossians, 1 Thessalonians, 2 Thessalonians, 1 Timothy, 2 Timothy, Titus, Philemon, Hebrews.
-General Epistles: James, 1 Peter, 2 Peter, 1 John, 2 John, 3 John, Jude.
-The book of the end: Revelation.