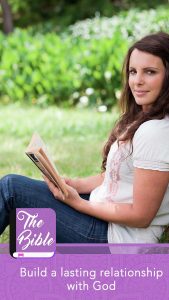 We want to help you have the Bible on your phone: download Amplified Bible (AMP), the English translation of the Holy Bible released in 1965, using as a basis the American Standard Version (ASV).
This Version of the Bible has an amplified text that contains a system of punctuation such as references, parentheses and additional words that explain the meaning of the Scriptures.
Amplified Bible helps you to understand the Word!
Study the Bible in an enjoyable and enriching manner!
Read or listen to the Bible offline. It works without an Internet connection!
Read and enjoy the Bible every day. There is always a good reason to have the Bible close to you. Now you have your personal Bible app, so you have a complete library with you wherever you go!
New features include:
– Audio version of the Bible: listen to the Holy Word
– It's free
– Available for Android phones and tablets
– A simple-to-use app to find quickly and easily the book or verse that you want
– Bookmark your favorite verses
– Change the font settings for a comfortable read
– Create a list of your favorite verses
– Fast keyword research
– Share verses on social networks
– After a break, you see the current page of the book you were last reading
– Night mode function for a comfortable reading
– Study Notes can be made on any verse in the Bible
Bellow, you will find a list of books of the Bible:
Old Testament:
– Pentateuch: Genesis, Exodus, Leviticus, Numbers, Deuteronomy.
– Historical Books: Joshua, Judges, Ruth, First Samuel, Second Samuel, First Kings, Second Kings, First Chronicles, Second Chronicles, Ezra, Nehemiah, Esther.
– Books of Wisdom (or Poetry): Job, Psalms, Proverbs, Ecclesiastes, Song of Solomon.
– Books of the Prophets:
Major Prophets: Isaiah, Jeremiah, Lamentations, Ezekiel, Daniel
Minor Prophets: Hosea, Joel, Amos, Obadiah, Jonah, Micah, Nahum, Habakkuk, Zephaniah, Haggai, Zechariah, Malachi.
New Testament:
– The Gospels: Matthew, Mark, Luke, John.
– History: Acts
– Pauline Epistles: Romans, 1 Corinthians,2 Corinthians, Galatians, Ephesians, Philippians, Colossians, 1 Thessalonians, 2 Thessalonians, 1 Timothy, 2 Timothy, Titus, Philemon.
– General Epistles: Hebrews, James, 1 Peter, 2 Peter, 1 John, 2 John, 3 John, Jude.
– Apocalyptic writings: Revelation.